Iseli Type SAM
Manual stellite tipping machine for band, circular and gang saw blades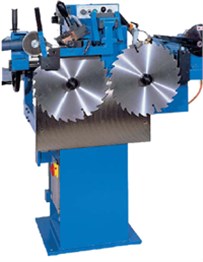 Features:
Well proven stellite tipping system with an excellent reputation.
The stellite is welded on the saw through the resistance welding method.
The structural condition of the stellite does not change during welding. Cracks and holes in the stellite are thus avoided.
The stellite is welded horizontally and the tip size can be adjusted in width.
The stellite bar is manually advanced and is cut off by a cutting off wheel after welding.
Pre-shaped (prism) stellite P 5,0 and P 6,5 and round stellite from 3,2 to 8,0 mm dia can be used.
No need for elaborate saw preparation and grinding of the saw tip before tipping.
New tips can be directly welded onto existing tips.
Further qualities:
Easy adjustments allow band, circular and gang saw blades to be tipped on the same machine.
Tipping of the saws is manually executed. Annealing is carried out automatically in a second process.
The simple construction of the machine eliminates the need of expert operation.
The central height adjusting device gives hassle free installation of the saw blade.
The working speed of the machine is up to 12 teeth per minute.
Options (on request)
Carrousel centrally adjustable in height for right-running band saw blades.
Single stands for heavy or left-running band saw blades.
Additional supports for double toothed band saw blades.
Equipment for circular saw blades with centering devices for bores dia. from 22 to 210 mm.
Equipment for gang saw blades for widths from 80 to160 mm.
Specifications:
| | |
| --- | --- |
| Blade thickness | 0,8 - 4,0 mm |
| Pitch | 13 - 115 mm |
| Tooth height | 5 - 40 mm |
| Front rake angle | 10 - 30º |
| Blade width | 80 - 300 mm |
| Blade length | from 5500 mm |
| Parrow band saws | 25 - 80 mm |
| Circular saw blades diameter | from 250 mm - 1000 mm |
| Circular saw blades bore diameter | from 22 pana la 210 mm |
| Gang saw blades Blade width | from 80 la 160 mm |
| Gang saw blades Blade length | unlimited |
| Working speed | up to 12 teeth/minut |
| Round stellite | 3,2 / 4,0 / 5,0 / 6,4 / 8 mm |
| Preformed stellite (Prism) | P 5,0 / P 6,5 mm |
| Cutting-wheel | 115*1,0*22 mm |