6 customer benefits
1. Customized blades!

Good results are achieved with blades suitable for your activity and machinery. We offer the widest offer of blades sizes in Europe and one of the most flexible production lines to customize your blades.
---
2. Metamob specialists advice!

Your business efficiency and tools lifetime depends on their correct use. Through technical assistance services, fly-wheels rectification or the full maintenance of the blades, our specialists are ready to provide the best advice in these areas.
---
3. Experience seen in the products quality!

Quality is one of the key criteria when buying a product. Since 1997, we established our quality recipe: efficient equipment, skilled employees and a quality management system. These are the elements that produce outstanding quality blades for your business.
---
4. From business partners to research and innovation partners.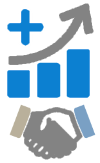 Use products that gives you maximum benefits. Our technology and information systems allow us to monitor your blade lifetime and its performance curve.
---
5. Use Metamob transport solutions!

The products get to you as soon as possible. Choose your suitable transport option: Metamob routes, private delivery cars or come in Metamob showroom from Satu Mare.
---
6. Your choice!

Give feedback, receive better services! We take into consideration your feedbacks, comments and referrals and do our best to turn them into solutions. We're here for you due to the trust that you grant to us. We appreciate the references made by our clients!