Saw Setting
Our company offers setting services as a part of the complete maintenance of new and used blades or for the reconditioning of the blades that are currently in use.
We perform spring setting and sharpening for:
Narrow band saw blades used in carpentry
Band saw blades for mobile saws
Band saw blades for professional saws
Circular monometallic band saw blades.
We also perform the swaging of band saw blades for professional saws. The minimum width of the swaged blades is of 70 mm. We swage PV, PCP shapes with pitch values of 25 mm or more.
In order to have a cutting process that is performed in optimal conditions, it is necessary that friction between the blade and the sides of the cut is as reduced as possible, this target being reached through spring or swage setting.
The deflection of the cutting edge on one side from the middle of the blade is called set amount, being symbolized with letter "c"'. The cutting width is b = g+2c, where g is the thickness of the blade.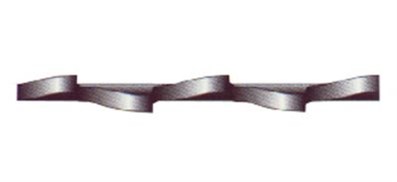 Spring setting is performed by bending the teeth at 1/3 to 1/2 from their height, after a perpendicular direction to the plane of the blade.
Teeth with an odd index number are bent on one side and those with an even index number on the opposite side. During setting it is important to keep the same uniform set amount (the allowed deviation being of + 0,05 mm). The set amount depends on the cutting conditions, timber type and material of blades.
Swage setting is achieved by widening the main cutting edge and rake surface, in order to increase the width of the cut.
A swaged tooth has two flat lateral sides and a rake face that is trapezoidal in shape. Its main cutting edge is elongated with a value equal to two times the set amount (2 x c).
Compared to spring setting, swage set blades ensure a higher durability being much harder (cold forming) and a smoother surface due to their regular shape.
See also saw-setting pliers