Welding
We offer welding services for new band saw blades (for endless blades) ordered from our company, used (with or without teeth) blades, and bimetallic saw blades.

Dimensional welding range is presented in the table below:
| | | |
| --- | --- | --- |
| | Minimum | Maximum |
| Width [mm] | 5 | 362 |
| Length [mm] | 0,5 | 2,41 |
Broken blades can be welded only if the final size ensures the minimal length required by the operating conditions.
This reconditioning welding aims a longer durability of the blades, directly contributing to saving raw materials and money.
The welding is done so that the welded area has the same final characteristics as the rest of the blade, namely:
Welded area thickness equal to blade thickness
Unmodified mechanical resistance in the welded sector
Welded blade keeps linearity characteristics
Welded blade keeps a constant pitch.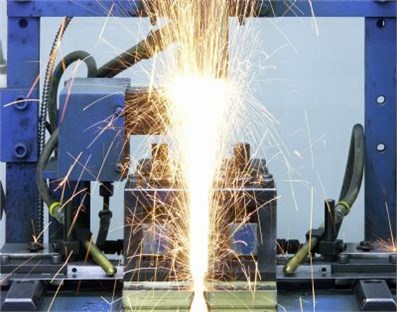 Our welding services can also solve cracks that occur at the bottom of the gap between two teeth, or missing teeth replacements.
See also welding wire