Tensioning is one of the most important operations that ensure straight and long lasting cutting with the saw blades. Find out more about the correct execution of this operation here.
However, how can we know if we've done a correct tensioning or rather how do we measure the tension inside the blade?
The tensioning can be measured with the light slit method, using a straight edge ruler or a curved edge ruler that matches the shape of the band saw wheels, as well as a light source. The light slit is formed when lifting the blade off the work surface and the crowning value can more accurately be measured using sets of gauges. For optimal results it is recommended that the surface on which the blade is placed is perfectly plane. The crowning value as well as the size of the light slit is proportional with the width of the blade and the shape of this curve depends on the crowned shape of the band saw wheel. In order to check the evenness of the tensioning, measuring is done in multiple areas throughout the entire length of the blade.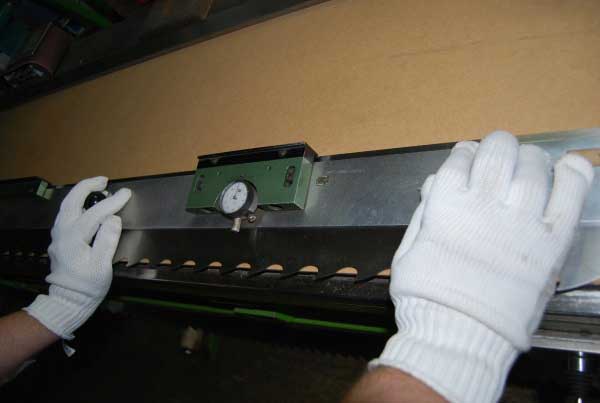 If the tensioning is insufficient and the light slit is not big enough, the blade will only be in contact with the middle part of the wheel and will result in unstable cutting. If the tensioning is too high, the edges of the blade stretch too much increasing the risk of cracking.
Using the same method the plane of the blade can be checked with the difference that the blade is not lifted from the work bench.
The third verification which confirms the good tensioning of the blades is the control of the back edge. This can be done with a straight edge ruler with a length of approx. 1500 mm, by aligning it with the back edge of the blade. To measure the back edge value more precisely, rulers with indicator clocks.
For the optimal functioning of the blades it is recommended that these measurements are done after each use and depending on the results the required corrections applied.
Measuring with simple rulers is an easier and more cost-effective method, however the result will depend on the operator's experience.
Various measuring devices can be found in our webshop under the Accessories section.